Out and About
Even though it's winter, I'm still making the rounds. If you want to see new samples, yarn and bundles, there are two options in the next couple weeks.
On February 23, I'll be at
KnitWit
in Portland from 1:00 to 3:00.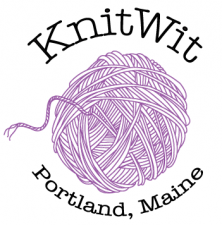 This shop is well-stocked with yarn, ideas and inspiration. It's always one of my favorite stops, and I hope to see some of you there.
Farm Fiber Day
, March 3​
Note that this event has moved from Saturday to Sunday
This fast-paced fiber market is held at
Russell's Garden Center
. As always there's an incredible list of fiber vendors. We had a tremendous turnout for the January Farm Fiber Day. If you're in the area, grab your fiber buddy and head to Wayland.
​
We're continually working on new products and samples. Stay tuned for details.
Be sure to sign up for the
newsletter
to receive the latest information. As always you can follow along on
Ravelry
,
Twitter
, the
blog
and
Instagram
. You'll also find updates on the
Facebook
page.